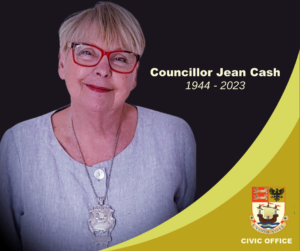 As a serving Town Councillor from 2019  to 2023, it is with great regret that the Town Council learnt of the passing of Councillor Jean Cash.
Councillor Cash represented Seaford residents as a South Ward Councillor for 4 years and was also Deputy Mayor between 2020-2022. She carried out her duties with passion, sensitivity, patience and reasoning, and will be greatly missed.
As a mark of respect, the flag will fly at half-mast on our flagpole to mark the service that Councillor Cash has given to the people of Seaford. A minute's silence will also be observed at the next Full Council meeting on 26 January.
Councillor Cash was born in Seaford and raised her two children here alongside her husband Nick.
She started her teaching career at Seaford Head Community College and was promoted to lead the College's pastoral team. As Senior Tutor, she was responsible for organising options and examination entries and was a member of the College's Senior Management Team. She was working as the Pastoral Deputy when she retired. Her happiest memories were of the enjoyment she got from the many happy years she spent teaching so many local students.
She was an environmental campaigner since her teens and was a Trustee and Fundraiser for The Railway Land Wildlife Trust in Lewes, as well as supporting a number of local wildlife groups. She was a founder member and Honorary Secretary of the Alfriston and Cuckmere Valley Twinning Association.
The serving Mayor of Seaford, Councillor Olivia Honeyman, said 'Councillor Jean Cash has been a hard-working councillor for Seaford. Councillor Cash has been involved in the organisation of the Rainbow Walks, and a great advocate for the environment in Seaford, which she has cared about with great passion.   She also suggested that the Martello Fields are renamed for the Queens Jubilee celebrations, and this is being taken forward.  Councillor Cash has worked with all of the town councillors in town matters, with her sensible approach.  Councillor Cash will be greatly missed by us all. As Mayor, I want to thank Jean personally for all the guidance and advice that she has given me.'