Announcing the appointment of new
Seaford Mayor and Deputy Mayor for 2021-2022
At the Seaford Town Council Annual General Meeting on Thursday 20th May, Cllr Rodney Reed was re-elected Mayor and Cllr Jean Cash was re-elected Deputy Mayor for another term in office.
SEAFORD 26th MAY 2021 –
At the
Seaford Town Council Annual General
Meeting, Cllr. Rodney Reed and Cllr. Jean Cash were unanimously re-elected to the positions of Mayor and Deputy respectively. They both were nominated unopposed. The Declaration of acceptance was signed and the Serjeant at Mace, Peter White formally made the announcement at the meeting which was held at the Baptist Church auditorium and live streamed onto the Town Council's YouTube Channel. The recording of the meeting can be viewed here https://www.youtube.com/watch?v=PIEKslmx4kE
This was the first of a hybrid face to face Council meeting since lockdown in March 2020.  Meetings since then had been held virtually via Zoom, but recent government instruction was that physical meetings had to resume.  Due to the limited space in the Council Chamber other venues were sought to enable safe social distancing, and the Baptist Church was able to offer greater space for this. This venue also allowed limited spaces for public attendance that would have otherwise not be possible, and had the equipment to live stream. Participants and members of the public could also access the meeting via Zoom and it was also live streamed to Seaford Town Council's YouTube Channel helping to reach a wider audience.
Cllr Rodney Reed is quoted as saying - "I was honoured to be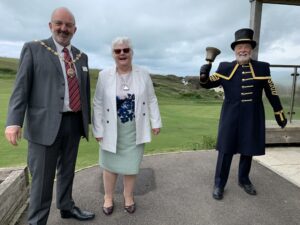 nominated to be Mayor of Seaford for the second time and humbled to be appointed unopposed by my Councillor colleagues. In the year just passed I realised I was Seaford's first virtual Mayor and so I now have a lot more experience of 'Zoom' and 'MS Teams'!
 I was pleased that our Annual Council meeting could be 'face to face' this year, made possible by Seaford Baptist Church offering their large and airy venue so making socially distanced Council Meetings possible. 
As Seaford emerges from lock-down, I hope with Mrs Ann Reed, the Mayoress, to be able to support many community events this year 'in person'.
New Councillors have recently been elected to join the Town Council and Adam Chugg our Town Clerk is well settled into his role leading his teams of capable Officers. Staycation Seaford looks to be a lively summer and I am confident that our shops and businesses will benefit from this boost to their trade.  Our Councillors and Officers are stronger together, working as one team for the good of our town. 
I am delighted that Cllr Jean Cash was appointed again as Deputy Mayor also unopposed. We worked well together 'virtually' last year. I am sure that we will continue effectively working together supporting our town emerging from lockdown and being a vibrant Seaford as a community."
Cllr Reed will be setting out his plans for this municipal year in the coming weeks and updates will be available on the Seaford Mayor's Facebook pageMayor of Seaford | Facebookand the Town Council website. https://www.seafordtowncouncil.gov.uk/
###