Seaford Town Council will be holding a short ceremony on Thursday 16th June, at 12 noon near the Martello Tower on Seaford seafront in honour of Sussex Day.
Sussex Day is the county day for the historic county of Sussex and is traditionally observed on 16 June each year to celebrate the rich heritage and culture of Sussex.
The event takes place on St Richard's Day, the feast day of St Richard of Chichester, Sussex's patron saint. The date marks the anniversary of the translation of St Richard's body from its original burial place in the nave of Chichester Cathedral to an elaborate shrine at the Cathedral on 16 June 1276.
The idea of Sussex Day originally came from a Worthing resident who suggested it to the leader of West Sussex County Council in 2006. Sussex Day was first officially recognised in 2007.
At 12 noon, on Thursday 16 June 2022, Seaford Town Crier, Peter White, will cry 'TheSussex Day Cry' followed by a more humorous Seaford version!
The Deputy Mayor of Seaford will then raise the Sussex flag next to the Lifeguards huts near the Martello Kiosk and everyone will have the opportunity to join in with the singing of 'Sussex by the Sea'. Song sheets will be available!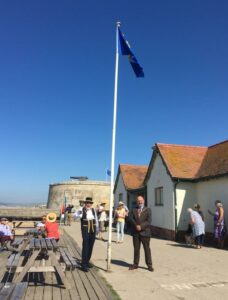 Pictured: 2021 Sussex Day with the Town Crier (left) and 2021-2022 Mayor, Councillor Rodney Reed