The Mayor and Young Mayor of Seaford have laid commemorative wreaths at Seaford War Memorial and the Commonwealth War Graves ahead of Remembrance Sunday.
SEAFORD 30TH OCTOBER 2020 - Due to the regrettable decision of having to cancel any physical Remembrance Sunday Service at the War Memorial on 8th November due to the Covid-19 restrictions, the Town Council represented by The Mayor, Cllr Rodney Reed and the Young Mayor, Chanel Pritchard (both pictured below), have laid a wreath at Seaford War Memorial on behalf of the people of Seaford.
The wreath frame is now available at the War Memorial between now and Sunday 8th November for any business, organisation or individual who wishes to lay a wreath/tribute during this time. It is strongly encouraged that wreaths/tributes are laid before 8th November to prevent any risks of crowding. When laying wreaths all current Covid-19 guidance must be followed.
Quote from The Mayor, Cllr Rodney Reed -
"Laying the Town's Remembrance wreaths was a particularly poignant experience for the Mayor of Seaford this year.  Particularly, because the need to do so while maintaining social distancing was a strong reminder of those who could not be present at the War Memorial.  Each year we solemnly remember our Armed Forces personnel and the civilians who laid down their lives in wartime and in recent years in international peace keeping or humanitarian aid missions. This year we are also conscious of those who would have been standing with us at our War Memorial but for the Covid-19 pandemic invading our world. The logistical contribution and mobile testing centre support provided by our Armed Forces personnel in the COVID-19 response is also commendable and memorable. As with every Remembrance event Seaford remembers with grateful thanks the sacrifices made for us."
Following the wreath laying at the War Memorial a wreath was also laid at the Commonwealth War Graves in Seaford Cemetery. There are 275 Commonwealth War graves which include those who were buried during World Wars I and II.  The graves include those fallen from the UK but also including some who were far away from home including the West Indies and Canada. The youngest being only 17 years old.
The Deputy Mayor of Seaford, Cllr Jean Cash, who was unfortunately unable to attend the wreath laying, shares this message:
"The Commonwealth War Graves Commission care for the graves of 1,700,000 casualties of World War I and World War II. At this time of the year, all over the world, communities come together to honour and remember those of all colours and creeds who left their homelands to fight for our freedom, and sadly never returned to their homes and families. We will not forget those who gave their lives in the past so that we could have a better future."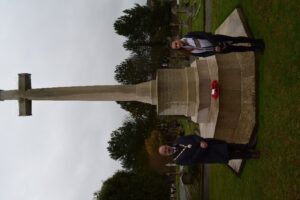 REMINDER – No physical service at Seaford War Memorial on Sunday 8th November:
The key message this year is safety; whilst the country remains in the holds of the virus, the Town Council cannot facilitate an event at which the health and wellbeing of attendees would be at risk. Although the advice is that local authorities can organise events, it also states that all reasonable measures to limit the risk of transmission of Covid-19 must be in place. Unfortunately, due to the location of Seaford War Memorial, its small size, limited access routes and close proximity to multiple busy highways, the requirements in order to hold a safe event just cannot be met.
Despite there being no service at Seaford War Memorial on Remembrance Sunday, the Town Council would like to ensure that members of the public are still encouraged to safely mark their Remembrance in other ways and to join the national campaign to 'Remember at Home'.
National Two-Minutes Silence:
The Town Council is taking part and encourages members of the public to also take part in the national two-minutes silence at 11am on Sunday 8th November in the safety of your own homes. As advised above,it is not advisable for anyone to gather at Seaford War Memorial.
 Remembering at Home:
There are many ways in which everyone can be involved in 'Remembering at Home' which need not be seen as less significant or respectful; it is the act of Remembrance itself which is vital.
The Royal British Legion is sharing ideas for this which can be found here and are set out below –
Hold a small Remembrance service in your garden (following social distancing rules).
Create a Remembrance space in your garden by planting plants that have a connection to Remembrance.
Use Zoom, Facebook or another online meeting resource to host an online Remembrance service or activity.
Set up a community Remembrance forum to discuss different residents' Remembrance stories.
Create an online exhibition of Remembrance related photos from local residents that schools or others could use to discuss local Remembrance activities.
Do an online interview with a local veteran or someone currently serving to discuss what service and sacrifice means to them. You could send people the link and create an online audience.
Open an online book of Remembrance that family, friends and others can sign as a mark of Remembrance.
Write letters of Remembrance to veterans or serving personnel.
Use the Royal British Legion's Remembrance education activities to help children learn about Remembrance.
Create your own Remembrance art piece using the Royal British Legion's teaching resources – children and families could display something in their window like the rainbows for the NHS.
Share Your Activities: 
The Town Council will be offering its Facebook page as a platform for the community to see and share their acts of Remembrance. Please do send in photos/messages either via Facebook or to admin@seafordtowncouncil.gov.uk so that officers can share as many as possible over the period of remembrance.
This could be of window decorations, garden tributes, poems, photographs of war heroes, or anything that you would like to share with your community at this time. Please also feel free to use and follow the #SeafordRemembers on Facebook which will collate these shared items. 
"In every act of remembrance, we honour the memory of the fallen and pledge to care for the living. We will remember them." (The Royal British Legion, 2020)