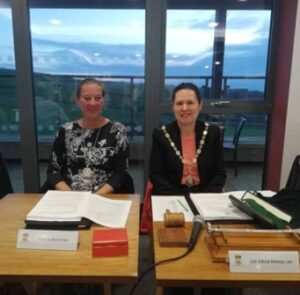 Mayor of Seaford, Councillor Olivia Honeyman, is welcomed to office, announcing her chosen charities and Healthy Living theme
The Town Council held its Annual Meeting on Thursday 12th May and is pleased to announce that Councillor Olivia Honeyman was elected as Mayor of Seaford for the coming municipal year, running until May 2023.  Councillor Olivia Honeyman brings a wealth of experience to the position having been a Town Councillor since 2015 and a District Councillor from 2015 to 2019 - she was thrilled and honoured to have been appointed in this, her eighth year of service on the Town Council.
Upon receiving the chain of office from the outgoing Mayor Councillor Rodney Reed, Mayor Olivia Honeyman thanked Councillor Reed for executing the position with such distinction and for all that he had achieved during his two years in office, with the support of his consort, his wife, Ann Reed.
Shortly after entering office, Mayor Olivia Honeyman said "I am honoured to become the Mayor of Seaford. Many thanks to everyone who has supported and believed in me, especially my family, friends, and fellow Councillors.  Seaford is a great town to live in, with a very active community. I know that there is a lot of hard work ahead of us and we can all work together in Seaford to promote the town".
Immediately following the election of Mayor, Councillor Liz Boorman was elected as Deputy Mayor of Seaford and is looking forward to working alongside and supporting the Mayor.
During her initial few weeks in office, Mayor Olivia Honeyman has already attended a number of events, including but not limited to: the Seahaven Business Awards; The Salts Tennis Courts Opening; Homelink AGM; Seaford Platinum Jubilee Beacon Lighting Ceremony, and; Seaford Baptist Church's Concentus Sings Summer. Between herself and the Deputy Mayor, the Mayor is keen to attend as many events as possible over the coming year.
It is customary that each Mayor selects a charity they wish to support during their term in office. The Mayor is pleased to announce that she has chosen Waves Seaford, Seahaven Storehouse and Refuge as her chosen charities to support. When asked about her choices, the Mayor said "All three are in some ways linked together in what they do - providing vital support to our local families and households. I think it's really important to do things in the local community because there is so much going on at the moment". The Mayor is currently liaising with her chosen charities regarding how she can work with them throughout her year in office and details of any planned events will be released by the Town Council once confirmed.
In addition to her chosen charities, the 2022 - 2023 Mayoral theme 'Healthy Living' will champion the importance of healthier choices and lifestyles. The Mayor says "I have chosen Healthy Living as my Mayor's theme. I used to be very overweight and very unfit. Fifteen years ago, I decided to do something about my weight and fitness issues.  I now know the importance of keeping fit, maintaining a healthy weight and the positive impacts that this has on your life". Over the coming weeks and months, the Mayor will be working closely with the Town Council to help bring her theme to life.
The Mayor is currently setting out her plans for this municipal year. The first mayoral event will be the Civic Service, to formally welcome her as the new Mayor of Seaford, which is due to take place at the end of July (more details to follow shortly). Updates will be available on the Mayor of Seaford's Facebook page and the Town Council website. https://www.seafordtowncouncil.gov.uk/