Seaford Town Council is currently seeking a quality tea, coffee and bakes mobile kiosk at Seaford's South Hill Barn and High and Over locations. Stunning locations with significant amount of passing foot and vehicle traffic and free public car parking.
South Hill Barn is one of Seaford's most visited unspoilt viewpoint and gateway to the idyllic countryside, located atop the Seaford Head Nature Reserve and graced with the awe-inspiring views of the Seven Sisters and Cuckmere Valley. The concession site offers the use of the courtyard.
High and Over offers the unique access point to Frog Firle, site of the Littlington Chalk Horse, and is a local beauty spot located on the Alfriston Road affording views over the Seven Sisters, Cuckmere Valley and Seaford Town and bay.
Seaford Town Council aims to support concessions throughout the town and can offer monthly and annual trading consent notices.
If you are interested in applying or know someone who is, please get in contact either via email facilities@seafordtowncouncil.gov.uk or call the office 01323 894870 to request an application form.

Littlington Chalk Horse, High and Over        High and Over Cuckmere Valley to Seven Sisters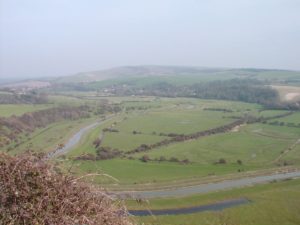 High and Over Cuckmere Valley                      View from South Hill Barn