Seaford Town Council hosts the 2021 Town Forum
The Annual Town Forum takes place via Zoom together with pre-recorded Civic Awards and Large Grants Presentations
SEAFORD 23rd  APRIL 2021
Seaford Town Council hosted the Annual Town Meeting, also known as the Town Forum on Tuesday 20th April.  This year it was held via zoom. It opened with the Town Crier Peter White paying respects to HRH The Duke of Edinburgh and lead a minute silence. The Mayor, Cllr Rodney Reed hosted the meeting and was an opportunity to hear from the new Town Clerk Adam Chugg about progress and plans for the council and was a chance for members of the public to ask questions. The recording of the Town Forum can be found here
A video compilation is also available on the Town Council's YouTube channel to learn more about civic year, the civic awards and large grants presentations.
The prestigious shield for the Don Mabey Award was
presented to Clare Davis the President of the Chamber of Commerce for her outstanding work in services to the town - promoting business, community and tourism.
The Mayor's Awards were awarded to:
The Management Team and Volunteers of Seaford Volunteer
Emergency Team (SVET) with special mention for Sarah McStravick and Rev Arwen Folkes for Health Promotion
Claire Sumners representing 'Plastic Free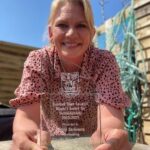 Seaford' for Sustainability
Peter Tattam representing 'Cycling without Age' for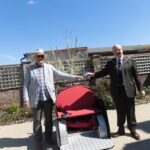 Intergenerational Activities
Highly Commended certificates were awarded to Hilary and Ben Miflin and Tim Chappels for maintaining the Beach and Sunken Gardens, Dawn Woodgate of Seahaven Storehouse, Lara Hague from Seaford Head School for her Eco and recycling club, Cedric Trenfield East Blatchington Pond, Simon Lambert of Seaford Head Golf Course for his environmental and sustainability work, Sussex Volunteer Crafters for supporting the community and NHS.
The Mayor Cllr Reed is quoted as saying - "I was very impressed by the presentations made by the recipients of the Town Council's large grants scheme, representing a great deal of valuable work for our community by these organisations. The nominations for The Mayor's Awards and The Don Mabey Award were of a high standard and merited the issuing of 'Highly Commended' certificates to nominees who did not receive one of these four Civic Awards. Our town - businesses and community - is well placed to emerge strongly from the pandemic and the social distancing restrictions."  Cllr Rodney Reed, Mayor of Seaford 2020/21
The Young Mayor's Award was presented to Isabelle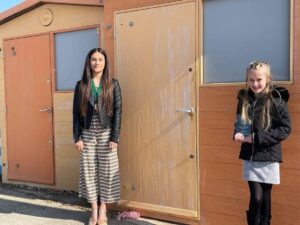 Ireland aged 9 for Charity Fundraising.
Gabrielle Ripley Bond received a Highly Commended certificate for her work also fundraising for the community and donating care packages to the NHS.
The Town Council would like to congratulate all awardees and for everyone who has contributed to the videos.
https://www.seafordtowncouncil.gov.uk/the-town/annual-town-meeting/