Brewster's Coffee Co. take on popular walking spot on Seaford Head Nature Reserve at South Hill Barn
SEAFORD, 28TH JULY 2022 - If you have walked up to the top of Seaford Head Nature Reserve recently, you would have noticed the NEW! Brewster's Coffee Co. concession located within South Hill Barn's courtyard.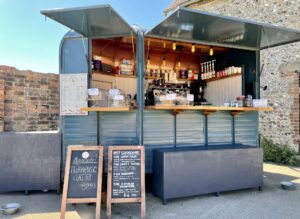 Brewster's Coffee Co. opened at South Hill Barn in November 2021 after a successful summer trading at High & Over Car Park. They have continued to build on that success on Seaford Head Nature Reserve, providing freshly ground artisan coffee and top-quality teas and cakes.
The popular coffee trailer concession is open every day 10-5 in summer and 10-4 in the winter months, with  adjacent parking available at South Hill Barn car park.  Payment for parking is by donation to help improve the car park and surrounding facilities at South Hill Barn. Donations received are shared between Seaford Town Council, Cuckmere Haven SOS and Plastic Free Seaford.
Many walkers from the Seven Sisters, Cuckmere Haven and Seaford will be pleased to use the indoor and outdoor seating provided and rest their legs, while enjoying the refreshments on offer.
One local resident said: "It's so important to have a place to rest, get some refreshments and use the facilities provided when you're having a long walk across Seaford cliffs".
Brewster's' Coffee Co. has a strong interest in providing customers with a range of vegan and gluten-free cakes, a large selection of Teapigs teas and freshly ground artisan coffees.  Founder, Jon Younghusband said, "Alongside serving the best single origin coffee in the area, the new concession aims to create an inclusive community space which promotes sustainable and environmental living, active lifestyles and strong mental health. We create a space which is welcoming, enjoyable and has a 'wow factor', we pride ourselves on having friendly accommodating staff."
Brewster's Coffee Co. recently held a small Blues at the Barn event, which was very successful and raised £250 for the Seaford-based charity, Down Syndrome Development Trust. Several similar events are being planned at South Hill Barn over the summer.
If you would like to know about future events or find out more, follow Brewster's Coffee Co. on Instagram and Facebook.
https://www.instagram.com/brewsters_coffee_co/
www.facebook.com/brewsterscoffeeco
South Hill Barn's main and side barns can be hired for events. The barns have previously held art exhibitions and community run workshops. Please note that the barns do not  have any running water, electric or event toilet facilities, therefore these would need to be suitably sourced for holding an event. If you would like further information on hiring South Hill Barn, please complete the Seaford Town Council's hire form and contact Seaford Town Council for further information.
###