Seaford Town Council's official opening of its new state of the art skatepark at the Salts Recreational Ground, Seaford on Saturday 17th August saw a fantastic turn out of skaters and riders with their friends and families.
The skatepark was opened by the Mayor of Seaford, Cllr Nazish Adil, joined by representatives from NPS Lions and officers from Seaford Town Council.
The contractor who built the skatepark, CANVAS was also on site to give out prizes to skaters and riders of all abilities, as well as showcasing some amazing demonstrations throughout the afternoon.
Cllr Nazish Adil said "I thoroughly enjoyed the opening of the Skatepark at the Salts for the young, the old and the pro at wheel manoeuvring and skilled biking!
Special thanks to CANVAS, Sports England, NPS Lions and Seaford Town Council Officers for coming together and making this happen. It was a pleasure to see it being so busy and well used.
I had a go at the bike myself (with no breaks) and jammed to the spree of spirit and adventure! It was awesome. Happy skating everyone."
The development of the new skatepark contributes to the achievement of one of the Town Council's five long term strategic objectives for the town: To improve and maintain the recreational facilities.
Through diligent work of the Seaford Town Council Officers the skatepark has been paid for from Section 106 funds, a generous donation from NPS Lions and a grant from Sports England. The whole project has therefore been made possible at no cost to the taxpayer.
Planning permission has also been granted for four floodlights which will be installed this autumn, opening up the possibility for longer skating hours all year round.
The Mayor of Seaford cutting the ribbon with the NPS Lions and Seaford Town Council Officers and Councillors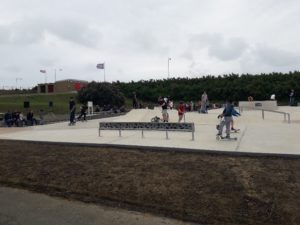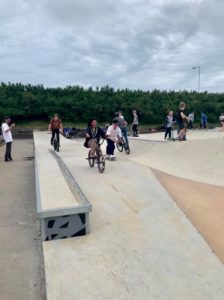 Picture left: People enjoying the skatepark        Picture right: The Mayor of Seaford on a BMX