On Sunday 16th June, Seaford Town Council held a celebration of Sussex Day.
The event was led by Seaford Town's Crier, Peter White, who read the official 'Sussex Day Charter' for all the people of the ancient kingdom of Sussex, celebrating the rites and traditions of Sussex. This was followed by Peter White's own more humorous 'Sussex Day Cry', which gave a potted history of the origins of the Celebration which marks the festival of St.Richard of Chichester.
Thanks goes to the Deputy Mayor Cllr Jim Lord assisted by Peter Gwilliam of the Seaford Lifeguards for raising the flag. Also, to the Martello Museum for raising the Sussex Flag and decorating the Tower with bunting, along with providing shelter for the Seaford Silver Band who played in the moat due to the high winds on the day!
Sussex Crafters had been invited to attend, but due to such windy weather it wasn't possible for all of them to display their stalls. However, the entertainment still went on! Thank you to the Seaford Silver Band and 'Shannon' who were appreciated by the hardy crowd that gathered.
A quote from Peter White, Town Crier, 'Seaford is Sussex, Sussex won't be druv!'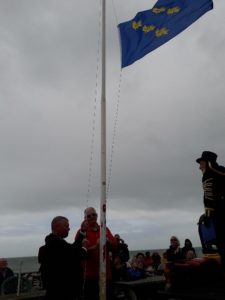 L to R – Seaford Dept Mayor, Cllr Jim Lord, Peter Gwilliam, Laurie Holland, Freeman of the Town