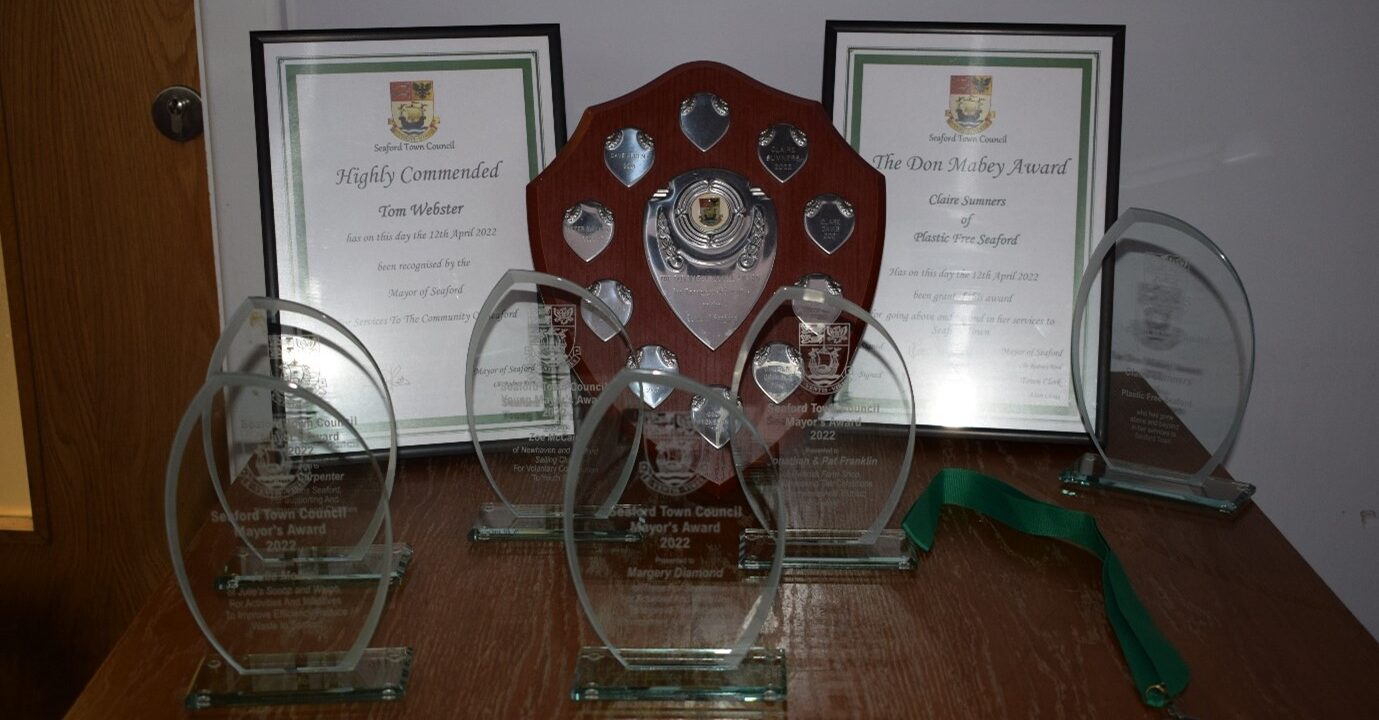 Over 60 members of the public attended Seaford's recent Annual Town Forum to receive an update on Town Council activities over the past year, watched as the deserving recipients received their Mayor's and Young Mayor's Awards and heard presentations from local community groups and charities.
The 2022 Town Forum, hosted by Seaford Town Council and opened by Town Crier, Peter White took place at The View at Seaford Head on Tuesday 12th April and was a very positive meeting, full of key updates and information, and inspiring messages from the award winners and community groups in attendance. The Town Council valued the opportunity to bring so many people together and recognise some of the amazing work going on in our Town.
The meeting began with a live performance from two young members from Lake Academy of Dance (pictured below) charming the audience with their lovely rendition of 'If Mama Was Married' from Gypsy the musical.  This was followed by a presentation from the Town Clerk on the key work of the Council in the last year.
Presentations were made by The Youth Counselling Project, Teddy Treats, Cuckmere Buses, Bishopstone United Charities, St Wilfrid's Hospice, Seaford Bonfire Society,Seaford Cricket Club and The Down Syndrome Development Trust who had all received financial grants from the Council during 2021.
All the presentations were informative sessions and helped raise understanding and awareness of how these vital grants can really change people's lives and improve the town of Seaford.
Also present were those groups and charities in receipt of small financial grants (under £500) during 2021, who had taken the time to arrange display tables letting people know more about what they do and with literature to give out. Again, the Council thanks those organisations; Friends of Bishopstone Station and The Ambulance Responder Team.
The evening then moved on to the annual Mayor's Awards; Mayor, Councillor Rodney Reed, was pleased to be able to announce his awards to individuals that have helped support and enrich the town; Trees for Seaford, Julie Moore from Julie's Scoop & Weigh, Jonathan and Pat Franklin from Dymock Farm Shop and Sophie Carpenter from Morrisons Seaford. In addition, Tom Webster from Seaford Town Football Club was awarded with a Highly Commended Certificate.
The Annual Don Mabey award, awarded to individuals for outstanding service to the town, was posthumously presented to the late Claire Sumners from Plastic Free Seaford.
Councillor Rodney Reed said "Claire was nominated and chosen during her lifetime but despite our best endeavours Claire had slipped away quickly so the award is a posthumous one and I am pleased that Chris is here to receive the Shield and Award in Claire's memory BUT this won't be the only part of her legacy. Many of us in Seaford will work to ensure her work continues. I valued my contact with Claire through Plastic Free Seaford, and I recognised how much Claire achieved for our town through her work encouraging and updating the Seaford Town Council's Single Use Plastics Policy and that in addition to the Beach Cleans and enabling local businesses and individuals to be Plastic Free Champions". 
The 2021/2022 Young Mayor, Joe Lacy, presented his award to Zoe McCaig of Seaford and Newhaven Sailing Club to thank her for her hard work with young people in the area.
Erin Franklin, 2022/23 Young Mayor (from the 13th May), informed the meeting that during her year of office she would be aiming to work closely with Seaford Environment Alliance and the eco team Seaford Head School.
The minutes and photos of the event will be available on the Town Council's website at www.seafordtowncouncil.gov.ukor updates can always be found on the Council's Facebook and Twitter pages, search Seaford Town Council and link to it for the latest news.
The Town Council wishes to thank all those that attended the event, gave presentations and took part, and offer its congratulations to those well-deserved award winners.