The Town Council is deeply saddened to have learnt of the death of Ian White who served on Seaford Town Council for 8 years.
It was with immense sadness that Seaford Town Council learnt of the death of former Town Councillor and Leader of the Council, Ian White.
Ian White first joined the Town Council in 2007 and became Leader of the Council in 2011, a role he held until 2013. Serving the Town Council for eight years in total, Ian stood down as Town Councillor at the end of his second term or office in 2015. During his time as Leader of the Town Council, Ian worked closely with his fellow councillors and Council officers to deliver the Town Council's aspirations, the most notable of which at this time was the new golf clubhouse and bar/restaurant facility, The View, based at Seaford Head Golf Course.
In addition to all that Ian dedicated to the Town Council, he also served concurrently as a Lewes District Councillor returning again in 2019, representing the voice of Seaford but with a particular passion for his local neighbourhood of Bishopstone.
Quote from former Mayor of Seaford, Cllr Linda Wallraven: "Ian was an excellent Cllr. and was very dedicated to the role.  Seaford was his priority, trying to work for the good of the town as a former Town Councillor and a sitting District Councillor.  One of his main goals was the completion of the clubhouse at Seaford Head Golf Course.  Ian was a sincere person and his expertise will be solely missed".
The thoughts of all those at the Town Council are with his wife Jan, family and friends.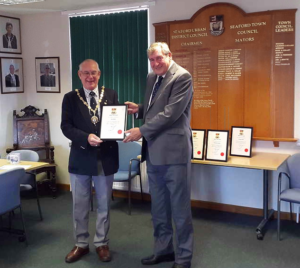 Figure 1 Former Cllr Ian White receiving his certificate of service in 2015 from Former Mayor but current Cllr Dave Argent.