The highly anticipated project to replace the Martello Toilet facilities is well underway with planning and other permissions in place and the project moving towards the demolition and subsequent construction phases!
Seaford Town Council is currently inviting tenders for the demolition of the existing Martello Toilets and the construction of a new café and toilet facility in its place.
This exciting new building will include individual toilet pods, two of which will be wheelchair accessible, a changing places toilet for people with more complex mobility needs and a café with indoor seating.
The Town Council has worked with ABIR Architects to design a building that not only suits the needs of Seaford's residents and visitors, but will also be a stunning, eye-catching asset to the town's lovely seafront.
The new building will also include sustainable features such as solar panels and an air source pump heating system.
This is a wonderful opportunity for the right contractor to be involved with a project that will have a hugely positive impact in Seaford. An iconic building that will enhance the promenade whilst standing up to the harshest of environments. An asset that will not only meet the needs of Seaford's community and visitors for many years to come, but also keep them coming back!
Tender packs will be available by contacting admin@seafordtowncouncil.gov.uk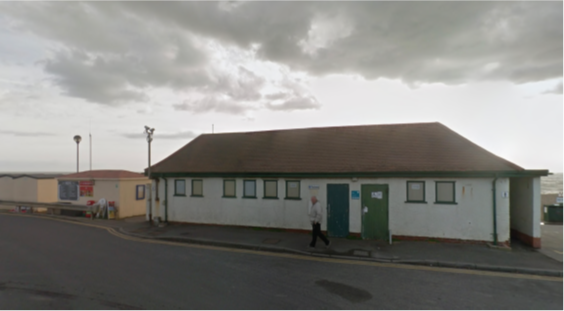 Figure 1.  Existing building
Figure 2. architect design of new cafe and toilet facility