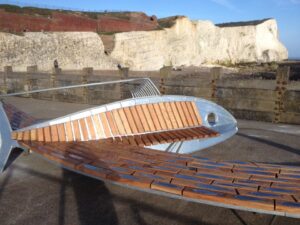 Seaford holds a special place in many people's memories and, wherever possible, the Council will endeavor to assist in the creation of a fitting memorial to remember loved ones by or to celebrate a notable event.
Due to the popularity of several locations, priority is given to those who have resided in Seaford at some time in their life.
Seaford Head Nature Reserve
We regret that it is no longer possible to donate a bench to be located on the Seaford Head Nature Reserve overlooking the Seven Sisters as this land is managed by the Sussex Wildlife Trust who wish to keep it as natural as possible.
The Shoal
Please note that plaques at The Shoal have now fully sold out and there are no spaces for more plaques.
Available Spaces
The Town Council do have some limited spaces available for benches in The Crouch gardens or at The Salts.
If you would like to make a memorial donation or sponsor, please complete the enquiry form below and you will contacted shortly.