All memorial applications and enquiries are currently paused, whilst our Memorial Policy is under review with our new Councillors.  We hope to resume this service again soon and look forward to hearing from you.  This page is updated regularly.  Please visit this web page again for further updates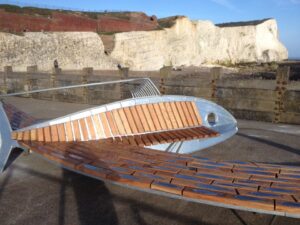 Seaford holds a special place in many people's memories and, wherever possible, the Council will endeavor to assist in the creation of a fitting memorial to remember loved ones by or to celebrate a notable event.
Due to the popularity of several locations, priority is given to those who have resided in Seaford at some time in their life.
Seaford Head Nature Reserve
We regret that it is no longer possible to donate a bench to be located on the Seaford Head Nature Reserve overlooking the Seven Sisters as this land is managed by the Sussex Wildlife Trust who wish to keep it as natural as possible.
The Shoal
Please note that plaques at The Shoal have now fully sold out and there are no spaces for more plaques.
Available Spaces
OUR MEMORIAL SERVICES ARE CURRENTLY UNDER REVIEW.  PLEASE CHECK BACK HERE FOR FURTHER UPDATES.
* This page was last updated August 2023*