2021 – 2022 Mayor of Seaford – Councillor Rodney Reed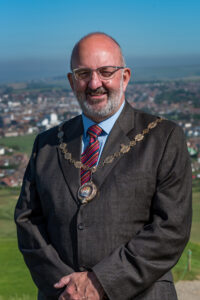 Keeping Up Dated
For updates throughout the year, please check the Mayors Facebook page, regular reports to Full Council meetings (linked below) or subscribe to email updates from the Town Council (on all of its news and activities) by emailing admin@seafordtowncouncil.gov.uk
Mayoral Engagements
Details of the Mayoral Engagements and Events are reported in the Mayor's Report at each Full Council meeting, or can be seen on the Mayor's Facebook page @mayorofseaford
Mayors 2021 – 2022 Reports: June 2021, August 2021, October 2021, January 2022, March 2022
If you wish to book the Mayor for an official engagement, please email mayors.secretary@seafordtowncouncil.gov.uk
Mayor's Charity Initiative
The Mayor has continued his Mayor's Charity Initiative, calling for any locally based charity or not-for-profit organisation to get in touch at mayors.secretary@seafordtowncouncil.gov.uk
Please also have a look at the Mayor's Charity Initiative YouTube playlist for exclusive interviews with the organisations signed up to the initiative, helping to raise awareness of their fantastic work and causes.
Mayoral Activities
2021 Mayor's Christmas Card Competition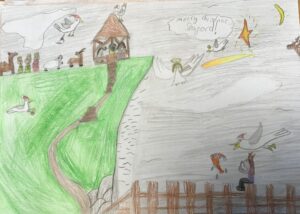 The Mayor once again chose to invite local school children to submit designs for the 2021 Mayor's Christmas card and was quite simply blown away by the designs that were submitted!
The children were given a theme for their designs, being 'the first Christmas re-imagined in Seaford', which saw a wonderful variety of ideas and creativity. The winning design, as chosen by the Mayor and Deputy Mayor Councillor Jean Cash, was by Lucy Tkaczuk aged 10 and a pupil at Cradle Hill Community Primary School.
The other incredible designs are also available to be viewed in the virtual gallery.
2021 Mayor's Christmas Carol Service
Having been unable to hold a physical service in 2020, the Mayor worked with his Chaplain, Reverend Andy Machin, to hold a Christmas Carol Service at Seaford Baptist Church on 8 December.
The service was well attended by local dignitaries and residents, as well as online watchers of the livestream – the Mayor wishes to thank all who were able to join in the festivities. Sadly the school choirs weren't able to grace the congregation with their presence but were able to submit videos of their songs that were played as part of the service and were thoroughly enjoyed by all.
The press release following the event is available online and the service itself can be watched on the Town Council's YouTube Channel.
2021 Re-election
At a 'hybrid' Annual General meeting of Seaford Town Council held at the Seaford Baptist Church on 20 May 2021, the new Mayor of Seaford was re-elected  unopposed – Cllr Rodney Reed.  His re-elected deputy is Cllr Jean Cash. (Pictured below left). Mrs Ann Reed is Mayoress and Consort (photos bottom left) pictured together with the Mayor and Town Crier – Peter White.
Cllr Reed is quoted as saying  -"I was honoured to be nominated to be Mayor of Seaford for the second time and humbled to be appointed unopposed by my Councillor colleagues. In the year just passed I realised I was Seaford's first virtual Mayor and so I now have a lot more experience of 'Zoom' and 'MS Teams'! I was pleased that our Annual Council meeting could be 'face to face' this year, made possible by Seaford Baptist Church offering their large and airy venue so making socially distanced Council Meetings possible. As Seaford emerges from lock-down, I hope with Mrs Ann Reed, the Mayoress, to be able to support many community events this year 'in person'. New Councillors have recently been elected to join the Town Council and Adam Chugg our Town Clerk is well settled into his role leading his teams of capable Officers. Staycation Seaford looks to be a lively summer and I am confident that our shops and businesses will benefit from this boost to their trade. Our Councillors and Officers are stronger together, working as one team for the good of our town.
I am delighted that Cllr Jean Cash was appointed again as Deputy Mayor also unopposed. We worked well together 'virtually' last year. I am sure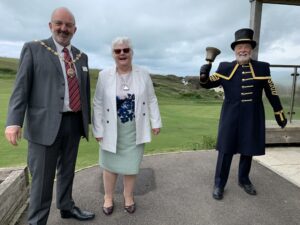 that we will continue effectively working together supporting our town emerging from lockdown and being a vibrant Seaford as a community."
Newly elected Deputy Mayor, Cllr Jean Cash is well known in Seaford for her teaching career at Seaford Head School. Cllr Cash looks forward to working closely with the Mayor, in supporting the Town  Council and the Community.
Past Mayors
Each year at its Annual Meeting the Council must elect a Mayor as first point of business; the Mayor then serves in office for the Municipal Year (May to May).
The Council is lucky to have had such a variety of Mayor's since its formation in 1999, each with their own aspirations for their time in office and with unswerving dedication to their roles. Often, as the Mayor, they would receive an invite to an engagement on a weekly basis, some weeks as special occasions there may even be three or four engagements – this is on top of their duties and responsibilities as a Councillor, and all carried out voluntarily.
The Council offers its gratitude to those former Mayors of Seaford:
2020-2021: Councillor Rodney Reed
2019-2020: Councillor Nazish Adil
2018-2019: Councillor Linda Wallraven
2017-2018: Councillor Linda Wallraven
2016-2017: Councillor Lindsay Freeman
2015-2016: Councillor Dave Argent
2014-2015: Councillor Mark Brown
2013-2014: Councillor Anthony White
2012-2013: Councillor Linda Wallraven
2011-2012: Councillor Linda Wallraven
2010-2011: Councillor Robert Allen
2009-2010: Councillor Tracy Willis
2008-2009: Councillor Carolyn Lambert
2007-2008: Councillor Ralph Taylor
2006-2007: Councillor Rosemary Collict
2005-2006: Councillor Marion Lambert
2004-2005: Councillor Kenneth Davies
2003-2004: Councillor Jon Freeman
2002-2003: Councillor Dr Jill Rosser
2001-2002: Councillor Leslie Whittle
2000-2001: Councillor Arthur James
1999-2000: Councillor Laurence Holland