2020/2021 Municipal Year Mayor of Seaford – Cllr Rodney Reed and Deputy Cllr Jean Cash
At a virtual Annual General meeting at Seaford Town Council on 21st May 2020, the new Mayor of Seaford was elected – Cllr Rodney Reed.  His elected deputy is Cllr Jean Cash.
Mrs Ann Reed is the Mayors Consort.
Cllr Reed is quoted as saying " I am honoured and humbled to have been appointed as Mayor, with the unanimous support of the Council. I look forward to working cooperatively with all Councillors, for the good of our town,and in being part of the town emerging from the current restrictions and being successful again in business and supportive in community.
Newly elected Deputy Mayor, Cllr Jean Cash is well known in Seaford for her teaching career at Seaford Head School. Cllr Cash looks forward to working closely with the Mayor, in supporting the Town  Council and the Community.
Cllr Reed will be setting out his plans for his term as Mayor soon.  For updates check the  Mayors facebook page
Cllr Reed Thanked the previous Mayor 2019 – 2020, Cllr Nazish Adil,  for her commitment whilst Mayor and to all her consorts; a role that was shared by friends, relatives, and members of the local community .  Thanks was also given to Cllr Adil's Chaplain, Rev Arwen Folkes for her invaluable support in organising and delivering the Mayors Carol Service.
2019/20 Municipal Year Mayor of Seaford: Councillor Nazish Adil
The newly elected Seaford Town Councillors met for their first Full Council meeting on Thursday 16th May after the recent elections.
The first order of business was the appointment of a Mayor of Seaford for the 2019-20 Municipal Year; Councillor Nazish Adil was elected to fulfill this role for the coming year.
Past Mayor, Councillor Linda Wallraven, presented Councillor Adil with the Mayoral chain. In return on behalf of the Council and the town, Councillor Adil made a proclamation of gratitude to Councillor Wallraven for her dedication and hard work whilst serving as Mayor of Seaford.
Councillor Jim Lord was subsequently appointed as Deputy Mayor of Seaford for the coming Municipal Year.
Seaford Town Council wishes the best of luck to the Mayor, Deputy Mayor and Young Mayor in their new roles and looks forward to the year ahead.
Mayor's Charity
Mayor Adil has selected The Youth Counselling Project and The Down Syndrome Development Trust to support during her Mayoral year.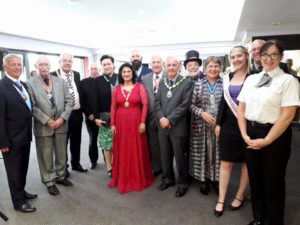 Mayoral Engagements
Details of the Mayoral Engagements and Events are reported in the Mayor's Report at each Full Council meeting, or can be seen on the Mayor's Facebook page – @mayorofseaford
If you wish to book the Mayor for an official engagement, please email mayors.secretary@seafordtowncouncil.gov.uk
Past Mayors
Each year at its Annual Meeting the Council must elect a Mayor as first point of business; the Mayor then serves in office for the Municipal Year (May to May).
The Council is lucky to have had such a variety of Mayor's since its formation in 1999, each with their own aspirations for their time in office and with unswerving dedication to their roles. Often, as the Mayor, they would receive an invite to an engagement on a weekly basis, some weeks as special occasions there may even be three or four engagements – this is on top of their duties and responsibilities as a Councillor, and all carried out voluntarily.
The Council offers its gratitude to those former Mayors of Seaford:
2018-2019: Councillor Linda Wallraven
2017-2018: Councillor Linda Wallraven
2016-2017: Councillor Lindsay Freeman
2015-2016: Councillor Dave Argent
2014-2015: Councillor Mark Brown
2013-2014: Councillor Anthony White
2011-2012: Councillor Linda Wallraven
2010-2011: Councillor Robert Allen
2009-2010: Councillor Tracy Willis
2008-2009: Councillor Carolyn Lambert
2007-2008: Councillor Ralph Taylor
2006-2007: Councillor Rosemary Collict
2005-2006: Councillor Marion Lambert
2004-2005: Councillor Kenneth Davies
2003-2004: Councillor Jon Freeman
2002-2003: Councillor Dr Jill Rosser
2001-2002: Councillor Leslie Whittle
2000-2001: Councillor Arthur James
1999-2000: Councillor Laurence Holland