Councillor Olivia Honeyman has been re-elected as Mayor for 2023-2024 with Councillor Sally Markwell as her Deputy. 
Each year, the Mayor of Seaford selects a charity to support during their term in office. This year, the Mayor of Seaford, Councillor Olivia Honeyman has, in partnership with the Deputy Mayor, Young Mayor and Deputy Young Mayor, chosen a theme of 'Youth Promotion'.
The Mayor of Seaford's theme 'Youth Promotion' will highlight the importance of supporting younger generations of Seaford. She says "I have chosen 'Youth Promotion' because younger people are the future of our town, and they need support now more than ever. In a recent survey conducted by the Town Council, it was highlighted that there needs to be more available for younger people."
In order to deliver the theme, the Mayor of Seaford will support and promote the Mercread Youth Centre and The Youth Counselling Project as her chosen charities. When asked about her charity choices, she said "Both the Mercread Youth Centre and The Youth Counselling Project are a huge asset to the youth of the town and are delivering important and vital services which I would like to give a platform to raise awareness and encourage the community to support them."
The Mercread Youth Centre is host to a number of youth activities and is looking to develop its facilities to expand what it can offer. The Centre is hoping to run a series of fundraising events, with the support of the Mayor of Seaford, to raise funds to renovate its kitchen.
An improved and more practical kitchen would then be able to be used to host community cooking classes for younger people. The Centre is also working on other initiatives for youth and networking opportunities for youth-related groups and charities in the town. More information and fundraising dates will be promoted in due course.
The Youth Counselling Project is an invaluable charity within our community which provides mental health support to younger people. The demand for The Youth Counselling Project's services have significantly increased in the last couple of years, not only in numbers but in complexity.
Keeping Up Dated
For updates throughout the year, please check the Mayor's Facebook page, regular reports to Full Council meetings (linked below) or subscribe to email updates from the Town Council (on all of its news and activities) by emailing admin@seafordtowncouncil.gov.uk
Mayoral Engagements
Details of the Mayoral Engagements and Events are reported in the Mayor's Report at each Full Council meeting or can be seen on the Mayor's Facebook page @mayorofseaford
Mayors 2022 – 2023 Reports: Council Meetings
If you wish to book the Mayor for an official engagement, please email mayors.secretary@seafordtowncouncil.gov.uk
Mayoral Activities
Interview with Seahaven FM
On Monday 14th August, the Mayor and Deputy Mayor of Seaford were interviewed by Len Fisher on Seahaven FM, if you would like to listen, please click on the following link https://player.autopod.xyz/395885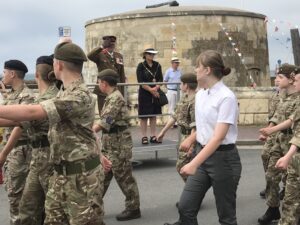 Seahaven Armed Forces Cadets at Armed Forces Day 2023
Newhaven and Sea Cadets Royal Naval Parade at the Newhaven Fort
Seaford Rotary Young Musician of the Year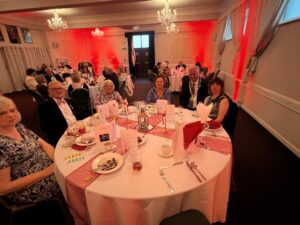 The Royal Society of St George (Seahaven) Celebrates the Coronation of King Charles III and Queen Camilla, meal at the EBM Centre in Peacehaven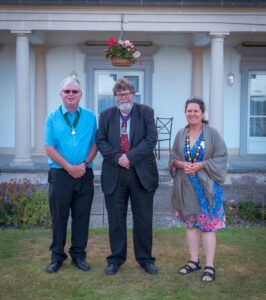 East Sussex County Council Chairman's Summer Reception at Buxted Park Hotel
Past Mayors
Each year at its Annual Meeting the Council must elect a Mayor as first point of business; the Mayor then serves in office for the Municipal Year (May to May).
The Council is lucky to have had such a variety of Mayors since its formation in 1999, each with their own aspirations for their time in office and with unswerving dedication to their roles. Often, as the Mayor, they would receive an invite to an engagement on a weekly basis, some weeks as special occasions there may even be three or four engagements – this is on top of their duties and responsibilities as a Councillor, and all carried out voluntarily.
The Council offers its gratitude to those former Mayors of Seaford:
2022-2023: Councillor Olivia Honeyman
2021-2022: Councillor Rodney Reed
2020-2021: Councillor Rodney Reed
2019-2020: Councillor Nazish Adil
2018-2019: Councillor Linda Wallraven
2017-2018: Councillor Linda Wallraven
2016-2017: Councillor Lindsay Freeman
2015-2016: Councillor Dave Argent
2014-2015: Councillor Mark Brown
2013-2014: Councillor Anthony White
2012-2013: Councillor Linda Wallraven
2011-2012: Councillor Linda Wallraven
2010-2011: Councillor Robert Allen
2009-2010: Councillor Tracy Willis
2008-2009: Councillor Carolyn Lambert
2007-2008: Councillor Ralph Taylor
2006-2007: Councillor Rosemary Collict
2005-2006: Councillor Marion Lambert
2004-2005: Councillor Kenneth Davies
2003-2004: Councillor Jon Freeman
2002-2003: Councillor Dr Jill Rosser
2001-2002: Councillor Leslie Whittle
2000-2001: Councillor Arthur James
1999-2000: Councillor Laurence Holland