Councillor Olivia Honeyman has been re-elected as Mayor for 2023-2024 with Councillor Sally Markwell as her Deputy. 
Further details will follow shortly. 
2022 – 2023 Mayor of Seaford – Councillor Olivia Honeyman
Councillor Olivia Honeyman Elected as Mayor of Seaford
The Council held its Annual Meeting on Thursday 12th May 2022 and is pleased to announce that Councillor Olivia Honeyman has been elected as Mayor of Seaford for the coming Municipal Year, with Councillor Liz Boorman sworn in as deputy.  Councillor Honeyman is thrilled to have been appointed.
Mayor Olivia Honeyman said "I am honoured to become the Mayor of Seaford. Many thanks to everyone who has supported and believed in me, especially my family, friends, and fellow Councillors.  Seaford is a great town to live in, with a very active community. I know that there is a lot of hard work ahead of us and we can all work together in Seaford to promote the town".
The 2022/2023 Mayoral theme 'Healthy Living' will champion the importance of healthier choices and lifestyles. Councillor Olivia Honeyman says "I have chosen Healthy Living as my Mayor's theme. I used to be very overweight and very unfit. Fifteen years ago, I decided to do something about my weight and fitness issues.  I now know the importance of keeping fit, maintaining a healthy weight and the positive impacts that this has on your life".
Mayors Charities
At the start of the Mayoral term, the Mayor has the privilege to choose one or more charities to support, both in terms of raising much-needed funds and raising the charity's profile within the community. Councillor Olivia Honeyman is delighted to be supporting three chosen charities during her term.
Providing basic food items to individuals and families in need within the Seahaven area
Providing specialist support to women, children and some men escaping domestic violence and other forms of violence.
A charity that seeks to offer practical help for families in Seaford.
Keeping Up Dated
For updates throughout the year, please check the Mayor's Facebook page, regular reports to Full Council meetings (linked below) or subscribe to email updates from the Town Council (on all of its news and activities) by emailing admin@seafordtowncouncil.gov.uk
Mayoral Engagements
Details of the Mayoral Engagements and Events are reported in the Mayor's Report at each Full Council meeting, or can be seen on the Mayor's Facebook page @mayorofseaford
Mayors 2022 – 2023 Reports: June 2022
If you wish to book the Mayor for an official engagement, please email mayors.secretary@seafordtowncouncil.gov.uk
Mayoral Activities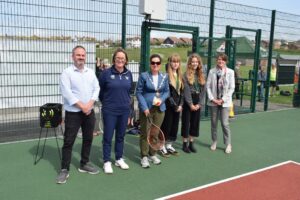 Salts Tennis Courts Official Opening
The Mayor officially opened the new Salts Tennis Courts on Saturday 21st May, the day was a great success, attracting a steady stream of players of all ages throughout the day.
Mayor and Cllr Honeyman said, "It's been a good morning and great to see people using the courts".
The Platinum Jubilee Beacon Lighting
The Mayor offered her thanks to everyone who made the ceremony possible and took part in the performances, everyone who came along to celebrate and be a part of the evening and her congratulations to HM The Queen on this incredible milestone of 70 years
The Mayor of Seaford Annual Civic Service 2022
The Mayor of Seaford, Cllr Olivia Honeyman, officially celebrated her induction as the 2022 – 2023 Mayor at a Civic Service that was hosted by Seaford Baptist Church on Sunday 31st July. The Service was opened by Seaford Town Crier, Peter White, who acted as Mace Bearer and bore Seaford Town Mace before the Mayor of Seaford and VIP guests. The Service was conducted by Members of Seaford Quakers and led by Ali Campbell, an elder at Seaford Quakers.
The Mayor is quoted as saying – 'We choose the theme of Service and Civic responsibility, as this was appropriate for the role of being a Cllr and Mayor.  The service was very well supported by the Vice Lord Lieutenant, local Chairs, neighbouring Mayors, members of the Seaford Quakers, friends, family, and members of the public who came to the service.  I interviewed members from Seaford Storehouse and Waves       Seaford, to enable the congregations to learn about the work of the charities and spoke about Refuge in my Mayors address.
Parts of the  service were live streamed onto the Seaford Town Council Facebook Page with the full service recorded from the Baptist Church, available on Seaford Town Council's YouTube channels.
Link – https://www.youtube.com/watch?v=TPEsrKQ_wFo
Past Mayors
Each year at its Annual Meeting the Council must elect a Mayor as first point of business; the Mayor then serves in office for the Municipal Year (May to May).
The Council is lucky to have had such a variety of Mayor's since its formation in 1999, each with their own aspirations for their time in office and with unswerving dedication to their roles. Often, as the Mayor, they would receive an invite to an engagement on a weekly basis, some weeks as special occasions there may even be three or four engagements – this is on top of their duties and responsibilities as a Councillor, and all carried out voluntarily.
The Council offers its gratitude to those former Mayors of Seaford:
2021-2022: Councillor Rodney Reed
2020-2021: Councillor Rodney Reed
2019-2020: Councillor Nazish Adil
2018-2019: Councillor Linda Wallraven
2017-2018: Councillor Linda Wallraven
2016-2017: Councillor Lindsay Freeman
2015-2016: Councillor Dave Argent
2014-2015: Councillor Mark Brown
2013-2014: Councillor Anthony White
2012-2013: Councillor Linda Wallraven
2011-2012: Councillor Linda Wallraven
2010-2011: Councillor Robert Allen
2009-2010: Councillor Tracy Willis
2008-2009: Councillor Carolyn Lambert
2007-2008: Councillor Ralph Taylor
2006-2007: Councillor Rosemary Collict
2005-2006: Councillor Marion Lambert
2004-2005: Councillor Kenneth Davies
2003-2004: Councillor Jon Freeman
2002-2003: Councillor Dr Jill Rosser
2001-2002: Councillor Leslie Whittle
2000-2001: Councillor Arthur James
1999-2000: Councillor Laurence Holland