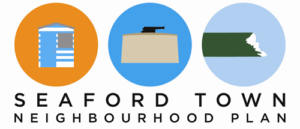 Seaford Neighbourhood Plan Referendum
After more than three and a half years work by volunteers and their professional Advisers, the Seaford Neighbourhood Plan went to Referendum on Thursday 6th February.
31.8% of electors voted in the Referendum and the majority voted yes. Please see the full Declaration of Result of Poll here – Declaration of Result of Poll – Seaford Neighbourhood Planning Referendum
Lewes District Council formally adopted ('made') the Seaford Neighbourhood Development Plan on 24th February 2020, the official Decision Statement is here – Seaford Neighbourhood Development Plan Reg. 19 Statement
The Plan as developed by local residents covers:
Where the new housing the Town has to provide will go (therefore this is not decided by outside developers)
Key green spaces to be given added protection
Parts of the Town to continue to be conserved
Suitable design requirements for new houses in the Town.
Over £1 million extra for projects in the Town will be generated as a result of the Plan.
Summary of Neighbourhood Planning process:
The process started in May 2016 when Focus Groups and a Steering Committee were set up.  There was a lot of volunteer involvement, in fact-finding, informal consultation and formal consultation (the first formal consultation took place in November/December 2017 and the second formal consultation in November/December 2018).  After considering the comments made in the second consultation, documents were amended as necessary and various documents prepared and, after approval by Seaford Town Council, submitted to Lewes District Council (found here). Other detailed supporting documents were prepared and submitted to LDC (found here). The documentation has been approved at all key stages by Seaford Town Council.
Lewes District Council then also conducted a consultation on the above documents prepared by Seaford Town Council. The comments received by Lewes District Council in response to its consultation were sent to a Government Planning Examiner for close scrutiny. The Examiner agreed that the Plan, with some modifications*, satisfied the strict legal requirements and was suitable for consideration by the public in a Referendum.
*The main changes to the Plan required by the Examiner, were to delete three Local Green Spaces, that is, Tide Mills, Land North of South Barn and Grand Avenue. Although this decision could not be challenged, any future development on these sites would need to satisfy strict planning regulations which may well prevent development taking place.
Also, because the proposal for eight homes on the Downs Leisure Centre site were deleted before submitting the final version of the Neighbourhood Plan, the Examiner accepted every one of the revised housing proposals as achieving both central and local government policy objectives. The Downs Health Hub proposals are being developed separately by Lewes District Council and are not included in the Neighbourhood Plan.
The Seaford Neighbourhood Plan (final Referendum version) can be found here – Seaford Neighbourhood Plan – FINAL Referendum Version
Summary of Policies in the Plan:
Seaford is a wonderful place to live, work and relax. There is much that needs to be conserved so that the natural beauty and biodiversity of the town is not undermined by housing development. The full Seaford Neighbourhood Plan is an important mechanism to conserve and enhance the Town as it contains policies which cover, amongst other things:
the landscape setting and key views
heritage assets
biodiversity
design
conservation areas including Bishopstone conservation area
areas of established character
the seafront
recreational facilities
visitor accommodation.
Local Green Spaces:
Although some of the present planning policies protect open spaces (such as, recreation grounds) from housing development, the neighbourhood planning process introduces a new concept of Local Green Spaces which protect from development green areas of particular importance to local residents. The following nine Local Green Spaces have been designated in the Plan:
Bishopstone Village Green
Blatchington Pond
Foster Close Open Space
Normansal Park/Chalvington Fields not in the National Park
Princess Drive Green and old Grand Avenue Bridleway
The Crouch
The Old Brickfield and Site Adjacent to 47 Surrey Road
The Ridings, Lexden Road
Land North of Alfriston Road (4 plots)
Furthermore, a new policy SEA7 gives new added protection for open spaces in Seaford that have not been designated as local green spaces. This gives more protection to open spaces in Seaford than anywhere else in the District.
Housing proposals:
The government requires each local authority to build a certain number of new homes by 2030 on sites that provide sustainable development, within both central and local government policy. Taking into account the number of homes for which planning permission has already been given, Seaford is now required to build a minimum of a further 185 homes. The Seaford Neighbourhood Plan enables local residents to say where development may or may not take place. The Plan identifies the following ten Brown Field sites for housing development:
Dane Valley project area – 104 dwellings (net addition of 74) This site is a grossly underused piece of land which is in a very good location for affordable housing (100% of home on the site are planned to be affordable),and has  good transport links and access to shops and other services.
Jermyn & Sons, 10 Claremont Road – 20 dwellings
10 Homefield Place – 19 dwellings
Brooklyn Hyundai, Claremont Road – 13 dwellings
Holmes Lodge, 72 Claremont Road – 12 dwellings
Station approach/Dane Road – 12 dwellings above existing retail space
Severn Sisters pub, Alfriston Road – 9 dwellings
Old House Depository, Claremont Road – 35 dwellings (development already completed)
Elm Court, Blatchington Road – 9 dwellings
Florence house – 7 dwellings
A total of 210 dwellings is estimated at the present time to be required so that, in due course, a minimum of 185 new homes will be built by 2030. The key point is that the sites identified for housing development in the Plan (that is the 10 sites listed above) were obtained by a detailed analysis by independent consultants of each site and comparison with the Sustainability Objectives. Sites not in this list are not recommended for development.
New Design Guidelines
For housing developments in Seaford new Design Guidelines  have been produced to supplement the Design Policies in the Plan. These guidelines should curtail development of unsuitable eyesores in the town.
More money for Seaford
The Neighbourhood Plan enables 25% of the Community Infrastructure Levy (contributed by developers of housing sites) to be paid to Seaford Town Council for enhancement of the infrastructure of the town. This will mean approximately an extra £1 million for the town by 2030, for enhancements to public spaces in the town, such as, parks, play areas, open spaces, public buildings or the seafront.