2023-2024 Young Mayor and Deputy Young Mayor
Image to follow
Young Mayor
We are pleased to announce Nia Waite as the new Seaford Young Mayor for 2023-2024.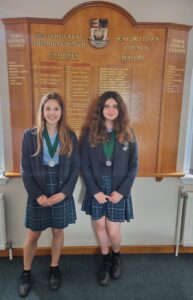 Young Mayor Nia Waite and Deputy Young Mayor Ella Yulle 2023-2024
Deputy Young Mayor
Ella Yulle is the new deputy. She will become the new Young Mayor in 2024-2025.
Image to follow
Updates will be posted on the Young Mayor's Facebook Page
If you wish to book the Young Mayor for an official engagement, please contact mayors.secretary@seafordtowncouncil.gov.uk 
Role of Young Mayor
The Town Council has a downloadable Young Mayor's Handbook to help explain what the role of Young Mayor entails.
The Young Mayor is a position held for one Municipal year (May to May) with the aim of representing the views of young people in Seaford, to Seaford Town Council.
The Young Mayor is supported by a Deputy Young Mayor, who is elected annually prior to the Annual Meeting of the Council in May, during which the previous Deputy is sworn in as Young Mayor for the forthcoming year.
The Young Mayor, and Deputy, are invited to take part in the Civic events and occasions, some alongside the Mayor of Seaford and others representing the Mayor. The Young Mayor is also invited to give talks or speeches where possible, to help build a relationship with the people of Seaford and increase their profile.
Seaford has its own Youth Task Group and Youth Forum which is based at the Youth Centre on Mercread Road. Both hold meetings throughout the year. The Council has a Councillor that attends the meetings as a representative but the Young Mayor ought to also attend these meetings where possible to enable them to truly represent the youth of Seaford.
There are also Management Committee meetings for The Base youth facility situated on the Salts Recreation Ground which it would be beneficial for the Young Mayor to attend.
The Deputy is also encouraged to attend these meetings to support the Young Mayor and prepare themselves for the following year when they take on the role of Young Mayor.
Past Young Mayors
In 2009 Seaford became the first town in the South East of the country to elect a Young Mayor. The scheme was set up by the Council in partnership with Seaford Head School, with past Mayor of Seaford, Councillor Carolyn Lambert, working closely with the school and youth of the town to get the scheme up and running.
2022/23 Erin Franklin
2021/22 Joe Lacey
2020/22 Chanel Pritchard
2019/20 James Jenkins
2018/19 Dominic Avey
2017/18 Thomas Exley
2016/17 Jessica Batchelor
​2015/16 Gabrielle Edwards
2014/15 Millie Hemsley
2013/14 Georgia Colyer
2012/13 Amy Gough
2011/12 Maddie Jay
2010/11 Ellie Homan
2009/10 Oscar Hardy