Due to Seaford being used extensively as a training and embarkation base for Commonwealth troops during the First World War, there are over 270 War Graves here. The majority commemorate Canadians, and a number of West Indian soldiers.
HISTORY INFORMATION
This is on the Alfriston road, was opened in 1897, and belonged to the Urban District Council.  It contains 253 burials of the 1914-1918 War, almost all are in four of the plots on the North side, and a War Cross is erected on that side, close to the Chapel. The 36th (Ulster) Division was at Seaford in July and August, 1915; the B.W.I.R. was encamped here; the 10th Canadian Stationary Hospital was at Seaford in November, 1916-January, 1917, and the place then became one of the main Canadian Training Centres. There are 25 burials of the 1939-1945 war including 6 unidentified Merchant seamen. War graves are being maintained by the CWGC. To learn more about the Commonwealth War Graves Commission, visit http://cwgc.org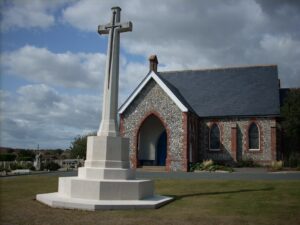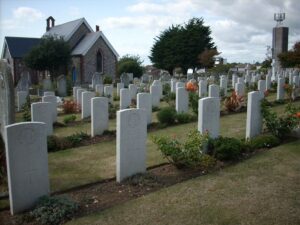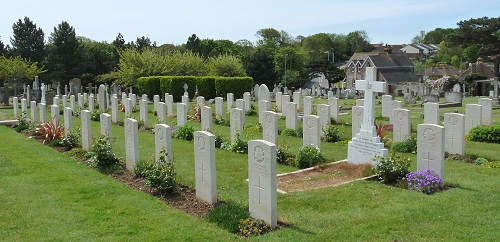 Map showing location of Seaford Cemetery on Alfriston Road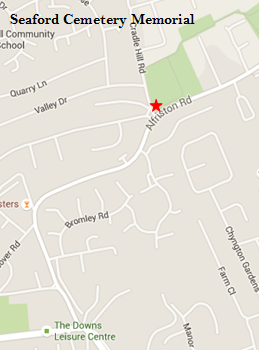 Opening times are from 9am until dusk, seven days a week, all year round.
The cemetery offers traditional plots, lawn cemetery plots and ashes plots. There is also a small ashes garden where cremated remains can be scattered by prior arrangement only.
For further information please contact Lewes District Council on 01273 471600  or visit www.lewes-eastbourne.gov.uk/cemeteries-and-crematorium/seaford-cemetery/
This page was  updated August 2023