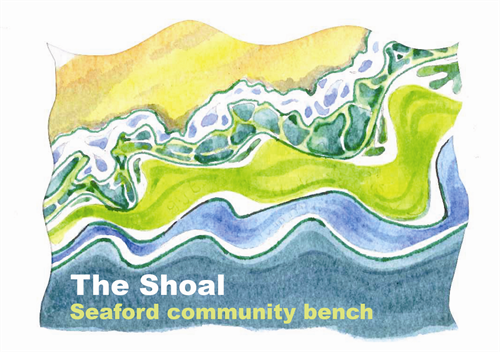 * Please note, the Shoal plaques are all sold out and there are no further spaces for availability.  The empty spaces you may see have been left intentionally by the artist to create a 'shoal effect'. 
All memorial applications and enquiries are currently paused, whilst our Memorial Policy is under review with our new Councillors.  We hope to resume this service again soon and look forward to hearing from you.  This page is updated regularly.  Please visit this web page again for further updates
The Shoal, Seaford's Community Bench, is an exciting sculptural seating attraction which has been installed in three stages, the first of which was unveiled on 1 May 2017 by the Lord Lieutenant and Mayor of Seaford amist a buzzing crowd of watchers who turned out to see this fabulous new addition to the beach. The final section was installed in April 2018 when all the fish shapes, Mackerel plaques and Love Fish were sold out.
Located on Seaford's widest jetty at Splash Point, close to the beach huts and Seaford Head cliffs, the bench represents a remarkable stream meandering the length of the breakwater. The brainchild of Gabby Tofts, an inspirational gardener, and Christian Funnell, a renowned local sculptor, it continues to draw a lot of enthusiastic attention. Gabby and Christian were selected by the Seaford Community Partnership, working in conjunction with Seaford Town Council and East Sussex County Council, to bring this project to life. Examples of Christian's work can also be seen in Seaford's Peace Garden and at Birling Gap. He always endeavours to bring the visitor a sense of engagement with the unique qualities of a given place.
Through generous sponsorship, this stunning sculptural bench has been built to benefit the whole community, becoming a destination with breathtaking views of Seaford Head and Seaford Bay for all to sit a while and enjoy. The galvanised, marine-grade steel used for the sculpture is vandal proof and has a lifespan of 20 years.
(Picture courtesy of Wayne Spring)
*This page was last updated August 2023*