About the Annual Town Meeting
Each year the Town Council facilitates an Annual Town Meeting (also known as the Town Forum). This is a public meeting, not a Town Council meeting, and is a chance for members of the public to ask any questions of the Council and receive updates on the Council's activities over the previous year.
The event also usually includes presentations from charities and organisations that have received financial grants from the Council; giving an insight into how the money has been spent and the benefit this has brought to the town. The Mayor of Seaford will also present the annual Mayor's Awards, which are given to members of the community or organisations that have worked hard for the benefit of the town or have overcome great barriers. The prestigious Don Mabey Award is also presented; an award first bestowed in 2014 in memory of the late Don Mabey MBE and his services for Seaford. The Don Mabey Award is given to selected residents of the Seaford community for outstanding services to the town of Seaford.
2022 Annual Town Forum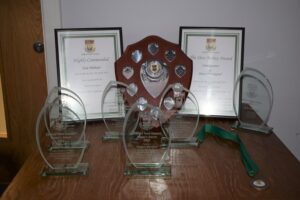 The 2022 Annual Town Meeting was held on Tuesday 12th April 2022 at The View at Seaford Head, Southdown Road. It was an opportunity to hear from the Town Clerk Adam Chugg, on key updates and priorities for the year ahead and a chance for questions to be asked. This year's agenda can be found here.
The draft minutes of the meeting can be found here Draft Minutes of Seaford Town Forum 2022
Large Grant Recipients
Presentations were given from the groups that received large grants from the Town Council in 2021 – 2022:
The Youth Counselling Project
Provides vital support to young people suffering from a range of conditions including anxiety, eating disorders and self-harming.
Teddy Treats
A local charity since 2014, providing treats for children, locally through schools, support groups and now with other groups.
The Society is open to anyone to join. 260 members of all ages, some active some supporters, the Society also provides support to other community events. They are grateful to Town Council for the grant – which goes towards medical cover on Bonfire Night.
Seven buses serving Seaford estates – providing local residents with lots of shopping trips to town.
Maintaining Eadric House a grade 2 listed almshouse in Bishoptone Village and the care of the residents.
In Seaford 260 patients were looked after – many cared for at home – nurses and therapists go out and visit people to provide palliative care at home. The Town Council grant helped to enable people to stay at home by covering the costs of examination kits that the nurses carry with them. Helps early identification of symptoms to avoid having to visit hospitals.
Providing cricket for both juniors and adults in a family friendly, inclusive atmosphere. The Town Council grant is towards a new boundary rope trolley, which is a vital piece of equipment and was built locally.
Downs Syndrome Development Trust
Delivering the support services and specialist interventions necessary to improve and enhance the lives of people living with Down syndrome.
The Mayor's Awards 2021/22 were awarded to:
Margery Diamond – Trees for Seaford – For activities and initiatives to improve the natural environment around Seaford.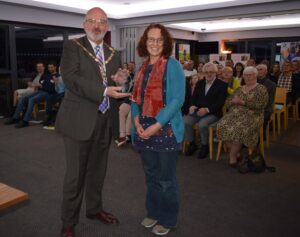 Julie Moore – Julie's Scoop and Weigh – For activities and initiatives to improve efficiency/reduce waste.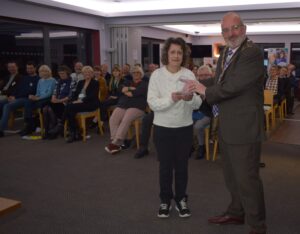 Sophie Carpenter, Community Champion of Morrisons Seaford – For supporting and strengthening local charities.
Jonathon and Pat Franklin – for the Dymock Farm Shop – For improving the conditions for business and tourism in Seaford.
Mayor of Seaford 'Highly Commended Certificate' was awarded to:
TomWebster – Seaford Football Club for his remarkable leadership and personal hard work for the Seaford Town Football Club.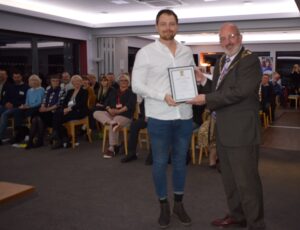 The Don Mabey Award 2021/22
The Don Mabey Award was introduced in 2014 in memory of Don Mabey MBE, a Freeman of the Town and known to many for the significant work he did for the town and our organisations.
This prestigious Award for 2020/21 was received by Claire Sumners – Plastic Free Seaford who has gone above and beyond with their services to the town and its residents. The award was received by Chris Sumners, as the Mayor was unfortunately unable to present this award to Claire before she passed away.
The Mayor was pleased that Chris was able to be in attendance to receive the Shield and Award in Claire's memory. The Mayor stressed that this won't be the only part of her legacy – many of us in Seaford will work to ensure her work continues as Claire's legacy.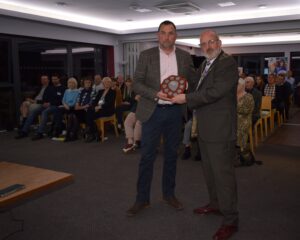 The Mayor read aloud some of the statements submitted supporting the nomination for Claire to receive this award:
"Claire has worked tirelessly".
"Claire has raised awareness through Plastic Free Seaford and Surfers Against Sewage about the changes we can all make to our natural environment".
"Claire has single-handedly, through her indefatigable drive, started the monthly beach cleans. She has been an incredible force for good and education".
"Claire has single-handedly brought about amazing changes to the town's environmental awareness, not least by establishing her Plastic-Free Seaford movement, but also getting the town to official PF status".
Young Mayor's Award 2021/22 was awarded to:
The 2021 – 2022 Young Mayor, Joe Lacy, presented his Young Mayor's Award to Zoe McCaig, of Seaford & Newhaven Sailing Club, due to over 10 years providing
sailing opportunities to young people and encouraging nervous youngsters to embrace the sport and develop their confidence.
Congratulations to all 2021/22 Award recipients and thank you for all your continued hard work for our community.
Past Town Forums
2021 Annual Town Meeting – Minutes DRAFT
2020 Annual Town Meeting – Cancelled due to Covid Restrictions – 2020 Virtual Presentations can be viewed here.
2019 Annual Town Meeting – Minutes DRAFT
2018 Annual Town Meeting – Minutes
2017 Annual Town Meeting – Minutes
2016 Annual Town Meeting – Minutes
2015 Annual Town Meeting – Minutes
2014 Annual Town Meeting – Minutes
2013 Annual Town Meeting – Minutes