Seaford has a paving stone laid in memory of Major Cuthbert Bromley VC.
Major Cuthbert Bromley VC was born on 19 September 1878 in Hammersmith. His father was made a Knight Companion of the Order of the Bath (CB) 3rd Class in 1904, moving to Sutton Corner, Seaford East Sussex, shortly thereafter.
Bromley was a Captain and regimental Adjutant in the 1st Battalion, The Lancashire Fusiliers during the First World War. He was awarded the VC for his actions on 25 April 1915, during the landings at W Beach, Gallipoli, Turkey during which he was wounded three times.
Having been sent to Egypt to recover from his wounds in Turkey, he was promoted to Acting Major on 13 June 1915 due to the illness of his commanding officer. Tragically, on 13 August 1915, whilst returning to the Gallipoli Peninsular aboard the troopship Royal Edward he was killed after the ship was torpedoed in the Mediterranean by a U-boat.
Major Bromley is remembered on the War Memorial on Sutton Road, on a plaque in St Leonards Church cemetery and has a road named after him in the eastern end of Seaford.
The memorial paving stone and plaque were unveiled on Sunday 16th August 2015; the 100th anniversary of the week of his death. Local dignatories, councillors, members of the Armed Services, current, veteran and cadets, and Major Bromley's family were in attendance for the memorial service that was arranged by East Sussex County Council and Seaford Town Council.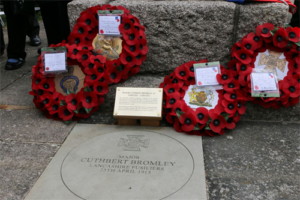 Pictures: Major Bromley VC  Memorial Stone and Plaque
This page was updated August 2023