The Salts Development Plan produced by Seaford Town Council was presented to Council for adoption as a policy document in November 2014.
Seaford Town Council is currently reviewing the existing Salts Development Plan, now named The Salts Improvement Plan, as significant progress has been made to improve the Salts including the new children's play area, new Skatepark and other improvements planned soon including water refill station. The existing plan can be viewed below.
If you would like to contribute to the plan please complete our survey which takes on average 1 minute to complete, please click on link below.
www.surveymonkey.co.uk/r/BLD6DYZ
The closing date for the consultation is Monday 30th September 2019.
Other elements of the development plan include a variety of landscaping projects such as a footpath/cycle path around the outside of the main fields, as well as picnic areas and viewing areas for events and other entertainment such as outdoor movies.
To download the current Development Plan, please click here – The Salts Development Plan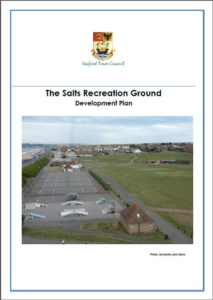 Please see The Salts layout in the picture below, which is downloadable here – The Salts Development Plan – Layout