Seaford welcomes four new water refill stations across the town
Seaford is an incredible place to live in or visit, enjoying amazing scenery, access to several beautiful beaches, the South Downs National Park, and a fabulous town centre with eateries, shops and galleries to peruse. Seaford Town Council has been working hard to look after the town and surrounding nature for many years to come by reducing the use of single use plastic with the introduction of several new water refill stations.
After the successful launch of Seaford's first water refill station in The Salts Recreation Ground, Seaford, in September 2019, Seaford Town Council and its Young Mayor of 2019-2020 James Jenkins, have raised funds and installed four new water refill stations throughout the town. James Jenkins did an amazing job of raising funds for the water refill station at Place Lane in Seaford Town Centre, and Seaford Town Council have worked hard to secure funds in partnership with Lewes District Council for the installation of several other water refill stations which are located by the Martello Toilets, Frankie's Café, and Bonningstedt Promenade beach huts. These stations will give members of the public access to fresh, free drinking water and help reduce the consumption of single use plastic in the town.
In order to secure the future success of the water refill stations, they are sponsored by local businesses and organisations to ensure they are maintained and looked after for many years to come. Seaford Town Council would like to take this opportunity to thank the sponsors who are South East Water, Plastic Free Seaford and Tom Webster on behalf of Seaford Town Football Club.
Emma Goddard, Head of Environment at South East Water, said: "We've been champions of the brilliant work of the Refill campaign for a very long time so we are delighted it has taken off so well in Seaford and more people can now enjoy some of the 14 million litres of tap water we clean and distribute to the town every day, when out and about."
"It's great to see Seaford's Young Mayor James lead the fundraising and for the whole community to get behind the project, especially given the tough year we have had."
"We have a dedicated team of environmental experts who work with communities across the region to protect at source the quality of the water we all need and schemes like Refill go a long way in helping us do just that."
"Well done Seaford and we all hope the latest Refill is a roaring success."
Tom Webster, Chair of Seaford Town Football Club said "It's a delight to be able to support Seaford Town Council in their efforts to reduce single use plastic usage in the town and bring fresh clean drinking water to residents and visitors. At Seaford Town Football Club we actively encourage our players to stay hydrated and understand the importance of hydration for a healthy mind and body."
A spokesperson for Refill Seaford and Newhaven, said, "After 3 years of campaigning and support from STC, LDC and sponsors we are absolutely delighted to see the installation of what is now a network of waterpoints in Seaford. We really hope these can be added to in the future so that we can reduce the scourge of empty plastic bottles which are discarded all over our town and beauty spots. Being able to Refill on the go will enable residents and tourists to show how much they care for our environment.  Thank you to everyone who has made this possible."
Claire Sumners, the Lead of Plastic Free Seaford said "Plastic Free Seaford are thrilled to have been able to sponsor a Refill station. Public water fountains were a part of life but their appeal became outdated when companies and Supermarkets started to push bottled water as more appealing and healthier. Cue 2021 and we all know the dangerous threat single use plastic bottled water has on the planet.  We are ever hopeful that every member of the Seaford community will see the Refill stations as theirs to use, cool to use! and inherently environmentally-friendly."
Please help make a difference and bring your reusable bottle for a free refill next time you visit Seaford Town, The Salts or the beach.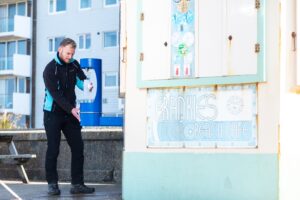 Frankie's Beach Kiosk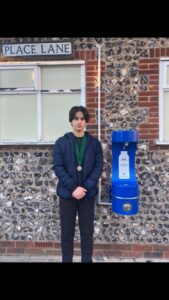 Place Lane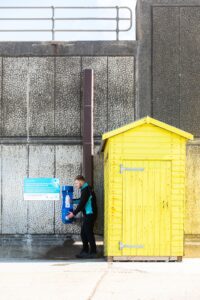 Bonningstedt Beach Huts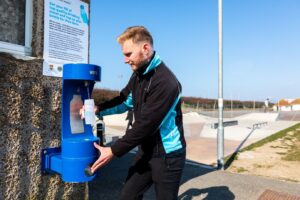 The Salts Recreation Ground